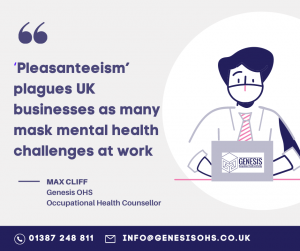 According to new research released this week, Pleasanteeism, characterised as feeling the pressure to put on a brave face at work, is on the rise across the UK. Three quarters (75%) of workers surveyed admit to feeling like they have to put on a brave face in front of their colleagues, regardless of how they're feeling. Figures indicate pleasanteeism is up by 24 percentage points from May 2021 – when just over half (51%) of workers admitted to suffering from this phenomenon.
Max Cliff, Genesis Occupational Health Counsellor, shares his thoughts on this new research and how employers and employees can overcome perceived barriers to getting help.
An increase in 'Pleasanteeism' since the Coronavirus pandemic began is perhaps unsurprising given several factors:
Many businesses, departments, and organisations have witnessed declining revenue, productivity or staff. These instances can increase the pressure on remaining staff who, as a result, may be experiencing an increased workload or uncertainty about their future employment. Employees may feel they need to be more resilient than is reasonably possible to cope with these changes.


The switch to remote working conditions has been beneficial and detrimental to others depending on individual circumstances. Returning to the workplace or continuing remote working can inevitably disadvantage a proportion of the workforce. However, flexible working schemes may mitigate this impact we have witnessed here at Genesis.


Previous staff absences related to Coronavirus, such as grief, caring responsibilities, shielding, mental or physical health issues, may result in employees feeling pressure not to be absent again and unwilling to discuss problems with their managers fearing job security.


There has been an increase in mental health awareness which may lead to more people recognising if they have mental health concerns. Yet, simultaneously there is a greater awareness of national issues such as physical and mental health services being more challenging to access and having long waiting lists, job losses, job shortages, and increases in the cost of living. These issues may discourage people from seeking help. They may feel like they must carry on and manage on their own as there is no alternative; in these circumstances, unsurprisingly, job security may be prioritised by employees over any other concerns, including mental wellbeing.
People can often be afraid that discussing personal or workplace issues with colleagues and managers may negatively affect their employment. Similarly, people may not want to burden family or friends with their problems. Here at Genesis, one of the main benefits of counselling is that the support offered is confidential and impartial. Genesis counsellors do not provide reports to an employee's workplace, allowing employees to be more open and frank than they might otherwise feel comfortable doing. Confidentiality and impartiality allow for more logical and rational solution-based discussions which focus solely on the employee's needs.
Employees can undertake counselling sessions through various options, either face to face, video or telephone. Genesis can also provide classroom or remote resilience training/support; don't hesitate to get in touch with us for further information.
*Lime Global – 'Keeping up Appearances: How 'Pleasanteeism' is Eroding Resilience'